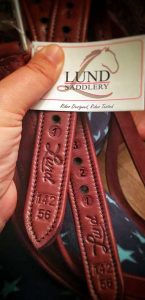 I've been on a hunt for a good soft pair of stirrup leathers for awhile now. After purchasing my saddle, I was using my old stirrup leathers, which were of questionable quality – while they did the job, the leather was not great quality and rubbed the flap every time I rode. However, finding quality soft leathers on a budget is no easy task. Most leathers that are soft enough to not damage calfskin are also in the $100+ range.
Just when I was about to give up the search and resign myself to spending at least $150, a review of Lund Saddlery's newly released stirrup leathers crossed my facebook timeline from one of the bloggers I follow.  Lund Saddlery, based in Canada, is a new start up that aims to produce quality leather and strap goods at very reasonable prices. So, well-made, soft, nylon lined stirrup leathers for under $100 with a money-back guarantee? Can't hurt to try!
Customer service was very prompt, answering questions quickly, and shipping was fast. Out of the box, the stitching was excellent, and the leathers already soft but not because the leather was too thin – it felt well-made, like it would stand up to hard use over time. The little details were nice, including the classy Lund Saddlery stamp on the end of the leather, with a number that I assume is the production number for quality control?
Now it was time to try them! The only hitch in the process (completely my fault!) was that we had very cold temps, and I was too impatient to wait to condition and oil the stirrups at home or warm the oil up. Despite this rookie mistake, the leathers took the oil very, very well and match my saddle almost perfectly – they don't look out of place with my Antares at all. A few spots on the leathers (again, my fault for oiling them in the cold), have blended in after a few rides and conditioning.
As far as riding, they have held up fantastically for about ten rides so far (unexpectedly Southern snow and ice have hindered riding for the past three weeks). No more rubs on my saddle flap! They lie nicely under the leg and are a nice thickness – thin enough to easily slide on the bar and adjust but thick enough that they provide stability and don't slide around. Overall, I am thrilled with the stirrup leathers and don't know that I could've found better for the money. While I'll update this post if I run into any problems down the road, at this point, I don't anticipate having to do that. I highly recommend that you give Lund Saddlery a shot!